𝐄𝐧𝐣𝐨𝐲 𝐒𝐩𝐚𝐫𝐤𝐥𝐢𝐧𝐠 𝐒𝐨𝐝𝐚 𝐖𝐚𝐭𝐞𝐫 𝐚𝐭 𝐇𝐨𝐦𝐞: With just a touch of a button, enjoy fresh soda water or flavored fizzy drinks provided soda maker. Customize the carbonation levels based on your preference. Make fresh sparkling water at the push of a button.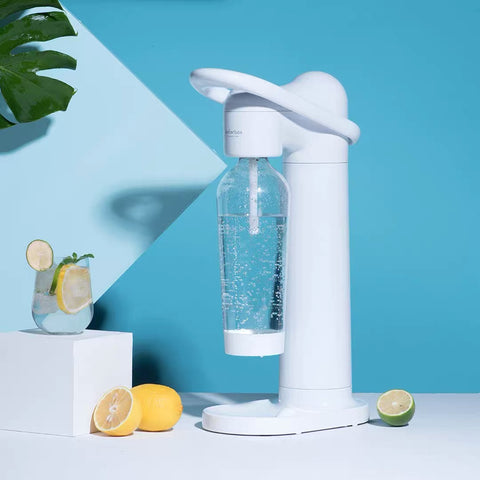 No electricity required. So you can put our sparkling water maker anywhere at your home or outdoors. No manual pressure. CO2 gas will Release with AUTOMATIC pressure relief valve.Energy efficient, powered by Co2 cylinder. Each Co2 cylinder carbonates up to 60 liters of water.Easy-to-use snap-lock bottle insertion for quick carbonation
Compatible with all SodaStream flavors and SodaStream carbonation bottles (BPA free and better for the planet) except the SodaStream glass carafe.Fit anywhere in your home & Sparkle up your lifestyle.
1 * STAINLESS STEEL sodastream fizzi: Premium stainless steel wrap finishing. Classic colors match any style of indoor decoration; 1 * BPA-FREE NONTOXIC PET CARBONATING BOTTLE: Designed for durability and withstanding the pressure of carbonation, the BPA-free 1L carbonating bottle has an airtight sealed lid to keep your sparkling drinks fizzy for longer.
𝐄𝐚𝐬𝐲 𝐭𝐨 𝐔𝐬𝐞: 3 steps to make sparkling beverage quickly: ① 𝐅𝐈𝐋𝐋 ② 𝐓𝐖𝐈𝐒𝐓 ③ 𝐏𝐑𝐄𝐒𝐒. 𝐖𝐞 𝐡𝐢𝐠𝐡𝐥𝐲 𝐫𝐞𝐜𝐨𝐦𝐦𝐞𝐧𝐝 𝐔𝐒𝐈𝐍𝐆 𝐂𝐎𝐋𝐃 𝐖𝐀𝐓𝐄𝐑 𝐭𝐨 𝐚𝐜𝐡𝐢𝐞𝐯𝐞 𝐭𝐡𝐞 𝐛𝐞𝐬𝐭 𝐛𝐮𝐛𝐛𝐥𝐞𝐬. We recommend using cold water to achieve the best bubbles.