【More than a aromatherapy diffuser】3-in-1 drug free solution,essential oil aromatherapy, sleeping white noise, 7-colour sedative lamp, creating an environment that soothes nerves and relaxes moods.

【Cool mist humidifier oil diffuser】Help you relieve stress, help you sleep, improve indoor air quality, protect your family from overdry air, microorganisms, allergens, dust, etc., and maintain indoor humidity even in winter. Perfect for home, office and hotel.

【5 optional white noises】High-fidelity natural sounds can excellent cover up and reduce background noise to achieve a better working, traveling, learning, meditation and sleep-assisting area.

【 7 color calming lamp】You can set this machine with 7 color lights as your preference to circle each colour, illuminate one colour or not show light at all, which is very suitable for creating an atmosphere, meditating or using them as night lights.

【Safety&Function】The loudspeaker function has a dry-proof function. Don't worry about the lack of water. The loudspeaker will automatically cut off the power, and the sound will continue to play. It is powered by alternating current. The product uses safe and environmentally friendly PP and ABS materials, advanced production technology and strict quality control. The machine is certified by CE and RoHS. Please don't worry about the accident.
This functionality

3 in one

machine does all things you need when you have trouble in getting asleep.
Hi-Fi white noise produce a type of noise the is unintelligible in order to cover for the rest of the sounds that you might hear.

6 Soothing soothing and relaxing sounds

– soul soother- White noise machine includes 6 ambient sounds:White noise, stream, ocean waves, forest birds, yoga and lullaby.

Choose an essential oil that you like and add it to the aromatherapy diffuser.Let it helps you fill your bedroom with the flavor you like.If you like to sleep with a light on, you can turn on the lamp function and choose the color you like to sleep with.

Relieve you body by using your 3 senses at the same time - smelling,hearing and seeing,improving the quality of your sleep.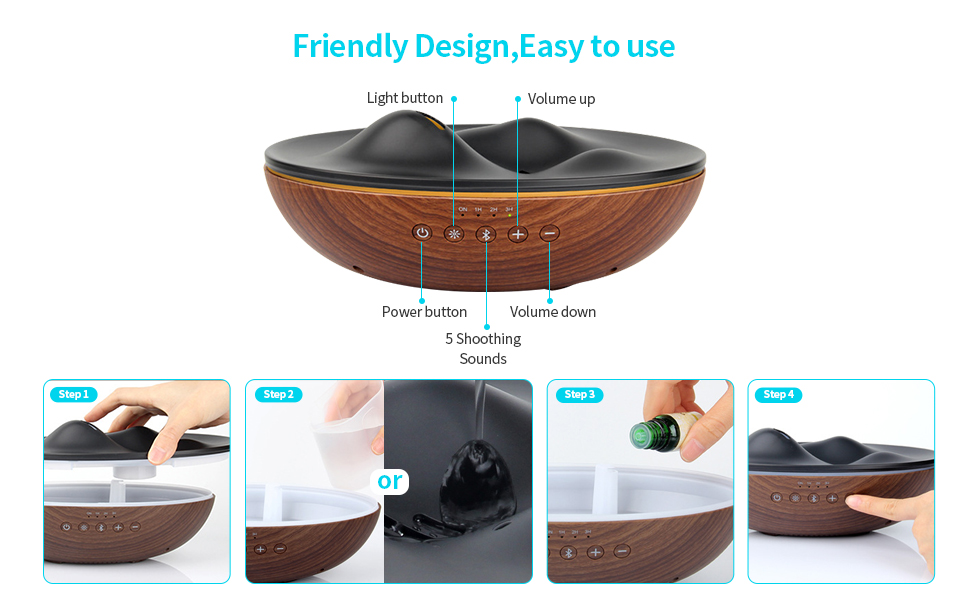 -Uncover the upper cover to add water purified water and essential oil.Pay attention not to Add too much water. You must cover the upper cover before you want to use the machine.
-Press power button to turn on the machine. Long press it will turn off all the function and cut off the power.The power indicator light is lit, which means the power is connected. It will start to spray at the same time. The timer controls the aromatherapy function.
When the time ends, it will stop spraying.
Press the power button to choose timer for the continuous mist as you need, there is 1h/2h/3h timer set. If you only want the white noise function, you can keeps pressing the power button until the timer light off, which will happen after the the 3h set.
CUSTOMIZED NIGHT LIGHT FOR NURSERY

We take into basically everything you could ever need for a smooth bedtime routine.Turn the baby soother sound machine on and create sleepy atmosphere to help baby calm down.Ideal for mid-night feeding and warm hue help keep you and your baby in a sleepy-type mood. Option to stay on all night or stay pitch dark if you turn the light off.

COMPACT SIZE FOR TRAVEL

Easily fits into bags or suitcases making it perfect for getting good sleep quality during business trips or for stress relief in the office.With portable size, it can easily fit into a handbag or suitcase making it the perfect travel companion.

WONDERFUL GIFTS FOR YOUR LOVER & FRIEND

Our 500ml glass essential oil diffuser has an elegant & wood grain decorative base.Using this pure aromatherapy diffuser set to keep life away from worries and depression, make your life full of joy and happiness.Great for a romantic gift for your significant other. GOLDNILE oil diffuser won't disappoint on your next gift-giving occasion!