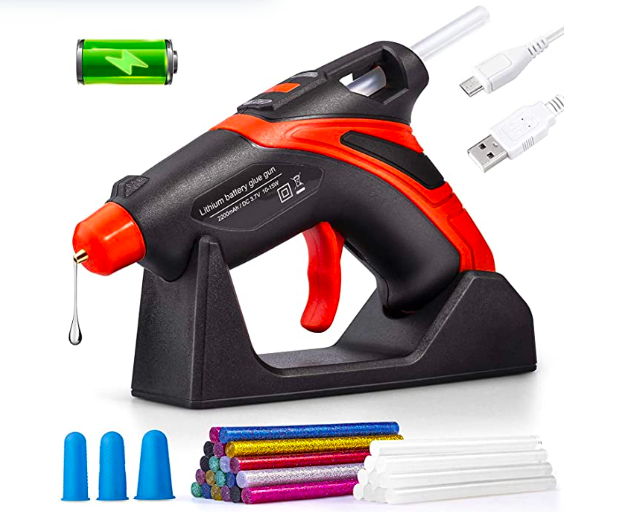 【Automatic Power-Off System】Added intelligent safety system, it will power off automatically after 10 minutes of inactivity to protect the safety of the user and save energy simultaneously. Moreover, the cordless hot glue gun has battery & heating indicators that you can always know the energy/working status of the kids glue gun kit. The surface is made of a flame retardant material to protect the hands from burns.A glue storage function in the chamber greatly improves the efficiency of discharging glue.
【Intelligent Safety System】 - Added smart linkage switch, it will power off automatically after 5 minutes of inactivity to protect the safety of the user and save energy simultaneously. No cord No limits! The cordless glue gun charges with standard USB cable for convenient cord-free operation, which can provide more convenience and portable operation.Note: Press and hold the power button for 2~3 seconds to start the hot glue gun cordless

【Long Standby Time】 - The hot glue gun is equipped with a upgraded 2600mAh premium lithium-ion battery. Combined with the MCH system and the intelligent power-off system, it can work continuously for up to 25 minutes. features a fast 1 minutes warm up time.It also comes with a quick charger that it allows battery to be fully charged only for 3 hours. Therefore you do not have to worry over long projects and tasks.Update smart temperature control design enables it to remain constant temperature.
【Wide Application】 - It discharges glue super fast. Built-in leakproof device and heat resistant silicone nozzle prevents mishaps and waste. for a normal glue gun. In addition, the set comes with extra 20 premium mini hot melt adhesive glue sticks. The mini size can work well with plastic, glass, paper, cotton, fabric and other materials. It bonds immediately and cools down super quickly, great for personal use of kids, children.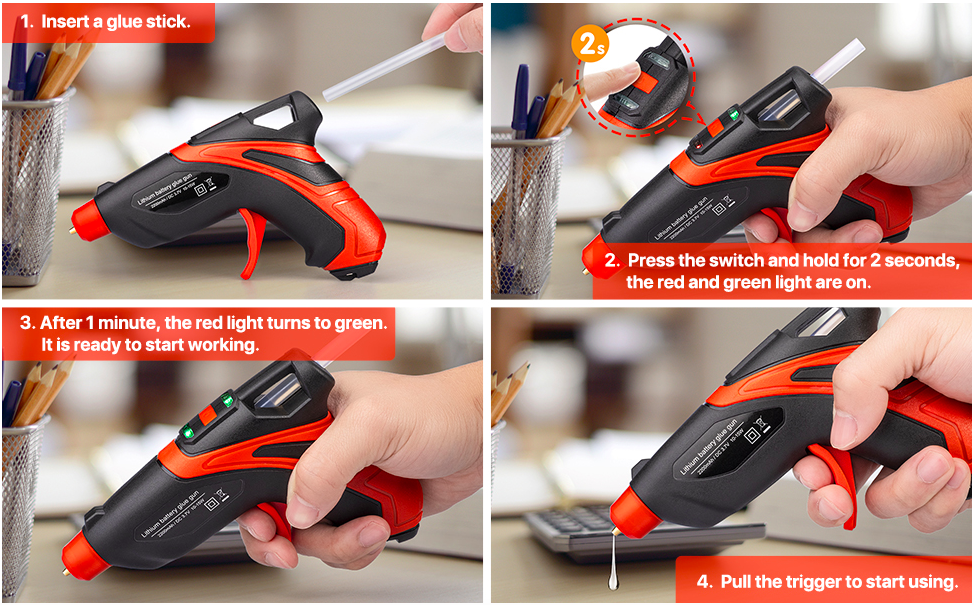 【Drip-Proof & Leak-Proof 】- It has a drip-free nozzle and therefore can effectively avoid the situation of spills. A black silicone ring at the tail of the glue gun is designed to prevent leakage of the glue.This hot glue gun with glue sticks is an ideal tool for various DIY, such as crafts & arts, home repair, making Christmas decoration, gifts.