【Powerful Pet Deodorization】
2022 newly upgraded litter box deodorizer adopts the latest ozone deodorization technology to eliminate the odors,Powerful deodorization of cat litter,Practice has proved .The cat litter deodorizer is release safety negative ions,deodorizing and dust-reducing substances to absorb and decompose odorous.After TWO DAYS OF USE, you can obviously feel that the odor is reduced or even disappeared,All these reactions are green and friendly.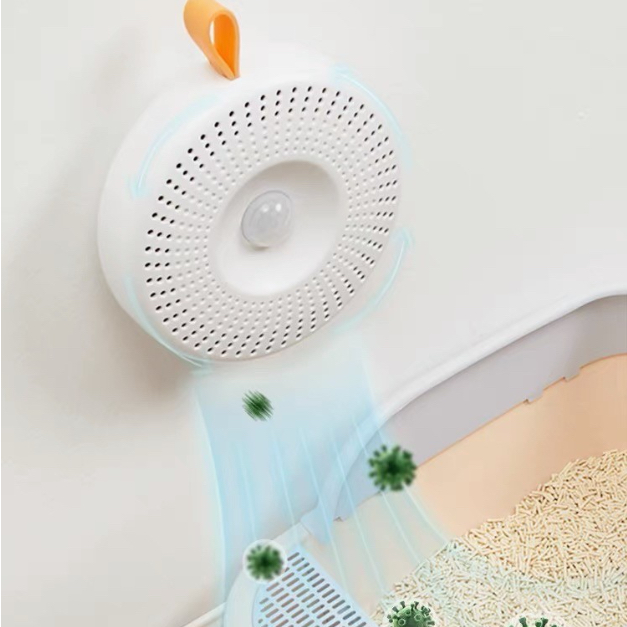 【Smart Infrared Sensor Design】
Litter box deodorizer has an intelligent sensor function. To avoid frightening your cat, the deodorizer will automatically turn off when the cat enters the litter box. When the cat leaves the litter box, the ozone generator releases ozone for about 6 minutes. Start to remove odors, there is almost NO NOISE during the operation, ensuring your cat will not be disturbed. Uses a low-concentration ozone,which will not cause emotions to pets' sensitive sense of smell.And it can work for 7-10 days when fully charged. It is USB rechargeable, and no extra battery is needed.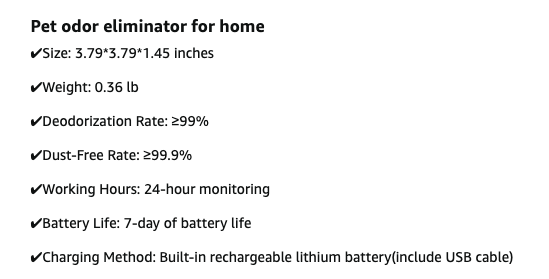 【100% Cat Friendly & Fragrance-free】
The cat litter deodorizer is equipped with 12 LED lights, and there are two modes of warm color and incandescent light. When it is sensed in a dark environment or in a weak light environment during the day, it will stay on for about 20 seconds. Litter box odor eliminator does not produce any harmful fumes or odor, is safe for your cat, and makes the cat feel comfortable. With ultra-quiet design to ensure that your cat will not be disturbed.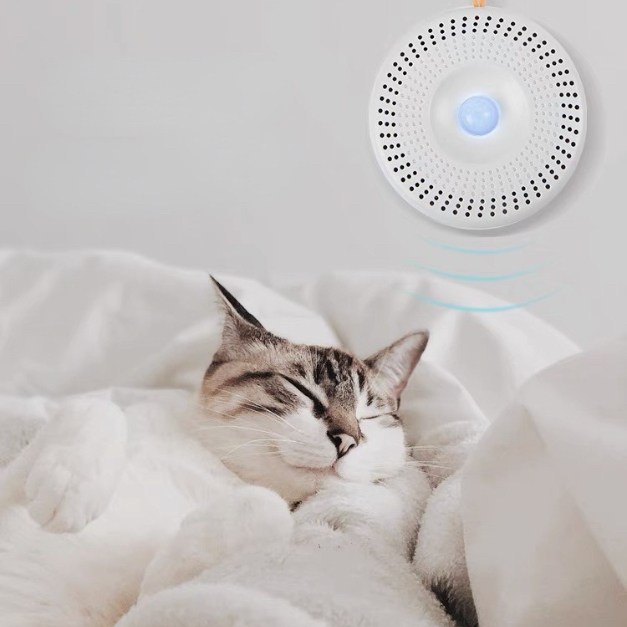 【Aroma Diffuser Function】
Our litter box deodorizer which doesn't have any fragrance and will not cause any olfactory irritation to your cat.For the needs of most families,we are equipped with 3 pcs unique aromatherapy tablets,which scent of natural ingredients extracted from plants.open the back cover of the deodorizer and put in the aromatherapy tablets. After deodorization, it will emit a natural fragrance.Suitable for toilet,kitchen,pet nest, litter box,wardrobe, shoe cabinet, bedroom.
【Muti-purpose Usage】
odor eliminator are designed for various small spaces where smells are always produced, like pet's litter box or house, closets, wardrobe, shoe box, toilet, other animals' living area etc. Choose our smart odor deodorizers and place them in or near the smelly area to create a fresh home for you or your pets.Compared with other litter box deodorizer,this deodorizer can provide up to 12 days of use when fully charged.