ADJUSTABLE BATHTUB TRAY: The bath tray for tub is designed with several compartments to hold your valuables. It features 3 reading angles for ideal viewing experience of your book or tablet. Fit people of different heights and find the desired angle for better viewing experience.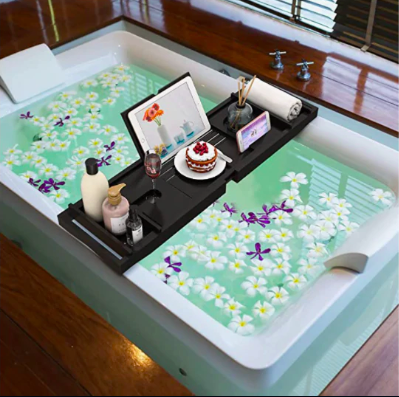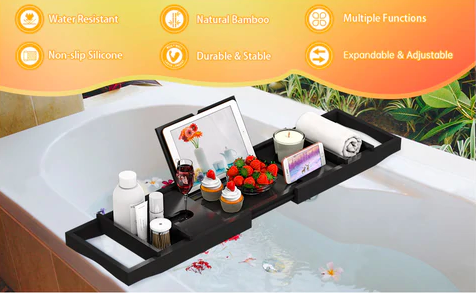 RELAXING SOAKING TIME: Watch a movie, drink a cocktail and eat snacks while relaxing in the tub. The bathtub tray can make your bath time enjoyable and fun.This bath tray features anti-slip silicone grips for maximum stability, prevent accidental sliding on the bathtub surface.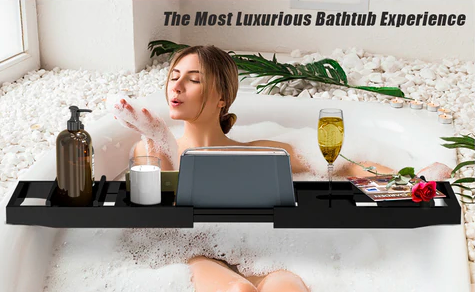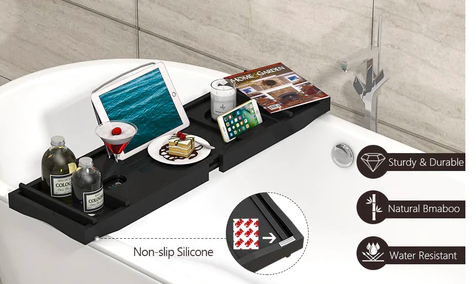 DIVERSE COMPARTMENT: The bath tray for tub has several compartments for holding different items: two detachable towel trays, candle/cup holder, phone holder, wine glass holder, and the book/iPad/tablet holder. match your diverse needs and access everything on the tray with ease.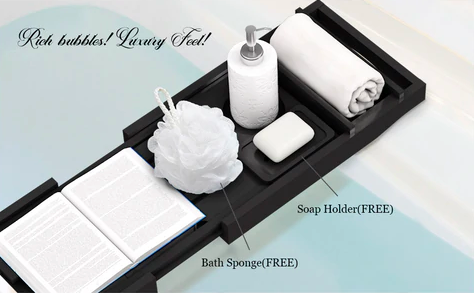 PREMIUM MATERIAL: Made of solid bamboo and covered with a thin protective coat of lacquer, the bathtub caddy tray is waterproof, durable and lightweight.Features a protective finish to resist water and moisture damage.
LUXURY SPA AT HOME: No assembly required and easy to care. The bamboo bath tray designed with porous & hollow conducive to ventilation and drying, it's a luxurious gift for Valentine's Day ,Thanksgiving and Christmas. Free soap dish and bath sponge are ideal addition to the bathtub caddy set. Get the ultimate 5-star hotel experience in your home.
Movable Bar: 23cm/9.05inches
Thickness of Board to Place Wine Glasses: 0.8cm/0.31inches
Diameter of Round Area: 8.6cm/3.38inches
Phone Slot Width: 0.9cm/0.35inches
Rectangular Slot Size: 18x7.9cm/7.08x3.11inches
Book Pad Prop Cloth: 23.5x14.8cm/9.25x5.82inches
Regular Size: 70x22x4cm/27.56x8.66x1.57inches
Extendable Size: 105.5x22x4cm/41.54x8.66x1.57inches
Item Weight: 1.4kg/3.09lbs
Package Size: 23x4.6x70.8cm/9.05x1.81x27.87inches
Package Weight: 1440g/3.17lbs