What Are the Best Fingerprint door Locks for 2022?
Jun 24,2022 | YESUN
Fingerprint door locks let you go back in the house with a simple touch.
With a fingerprint lock, you can identify who is approved to access the structure with just their fingerprint. It takes only a second for a door to open up.These are a huge help when you forget your keys or need to monitor who is coming and going into and out of your house. Most have the ability to connect up to your smart home system or can be unlocked with a fingerprint and app. Keyless locks also remain pickproof and weatherproof as an added bonus.This article will give you information on fingerprint door locks, as well as how they work and the best ones to buy.
Fingerprint Door Locks for Home Safety
With a connected lock, you can unlock your door with your phone or voice assistant, for extra security and time saving. Ensure that the lock you choose adheres to your privacy concerns: Some locks store fingerprint information on the physical lock without storing it in the cloud, keeping it safe and away from hackers.You can purchase a lock with an IP (Ingress Protection) rating. This is a measurement of how long-lasting your lock will be in places like the outdoors, where water and other elements may seep through. The IP65 rating usually lasts for about three years outdoors before it starts to weaken.
How many people will be using this lock?
If it's just you and a small amount of roommates, friends, or family, most locks will work for storing everyone's information. But for a place with lots of people and traffic, go for one that can store more information such as fingerprints so everyone who's supposed to be in there has easy access. If it's a busy area, you can even see who's coming and going right from the lock's connected app in addition to giving guests a one-time access code instead of a physical key.You may have to do some minor installation of your lock, but it's not hard to do as it usually only takes a few minutes to get up and running. Some locks even have videos available on the app to help you through the installation process, so you know exactly what needs to be done from start to finish.
The best fingerprint door locks
The top brands for fingerprint door locks is YESUNE.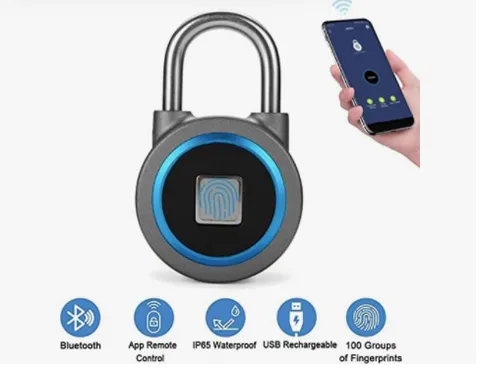 【Update Fingerprint Door lock -100 sets fingerprints】–The thumbprint padlock takes less than 0.5 secs for unlocking, Fingerprint lock supports 100 sets of fingerprints. You can also authorize and share fingerprint padlocks with your family/friend to use it.No keys, No passwords, No APP, No Bluetooth, your finger is your key. Say goodbye to tedious password combinations without worrying about losing your keys or forgetting your password.Padlock with fingerprint function provides a safe and private way for unlock and identity verify.

【Fingerprint & Bluetooth APP Unlock】–The fingerprint padlock has a high fingerprint recognition rate of 99% and a quick unlock rate of 0.2 seconds. Connect smart keyless padlock to free mobile APP though Bluetooth. You can register fingerprints, set authorized user, remote unlocking authorization,check the last 1000 unlock records and unlock the device in APP.It supports unlocking by fingerprints or ,mobile APP directly.
【Classic Design,Portable & Widely Uses】the lock Compact size to be carried anywhere you go. Smart Fingerprint Bluetooth padlock is suitable both indoor and outdoor for gym, school, office, door, gate, fence, garage, warehouse, cabinet, shed, suitcase, handbag, luggage, bike, etc.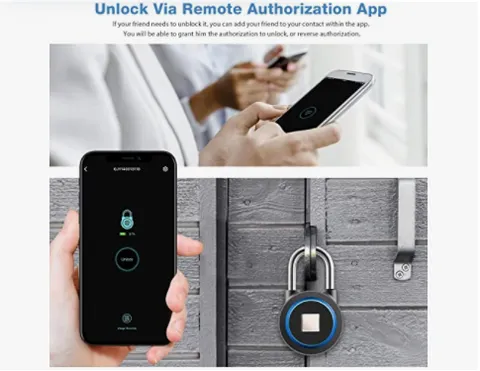 【Rugged Construction & Security】The fingerprint padlock Made of Aluminum Alloy lock body, along with stainless steel lock beam enhancing the sturdiness of the padlock. The shackle has excellent anti-tampering performance and superior cut resistance to protect your locker room or your home against thieves.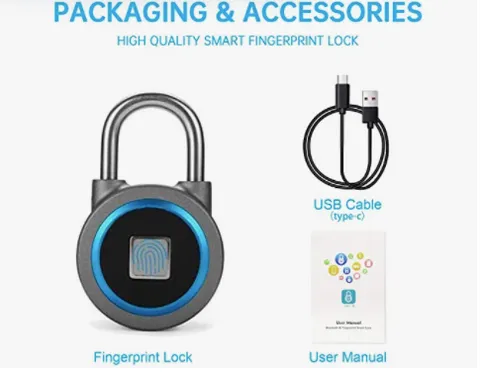 【Rock-Solid Protection & Waterproof 】–The waterproof and dustproof high quality design makes it outstanding and longlasting.Kindly attention: The fingerprint lock padlock is not recommended for extended outdoor use in rain or snow.
Comment
Back to YESUN.