Water Gel Ball Blaster-Best New Generation of Fun for 2022
Jun 26,2022 | YESUN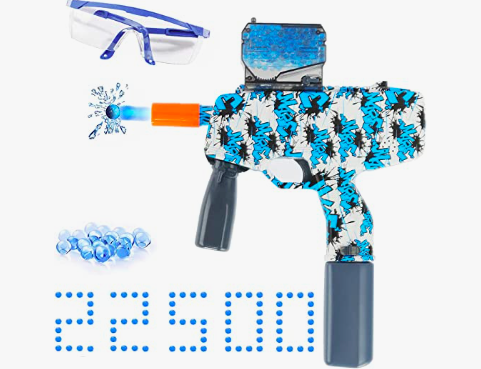 Gel ball blaster are toys that shoot balls made from gel and water. These toys usually shoot spheres that are 6-8 mm in diameter.The power of the device drives the gear to push the gel ball into the gun and then fires it out. The firing speed and distance are determined by the power of the device.
The gel ball blaster system
Gel ball blasters work by sending a gel ball from the magazine to the gun through an electric device. The firing distance and speed depends on the power of the electric device.Gel bullets are much safer than plastic paintballs and airsoft because of their fragile properties. They don't use as much pressure, so the gun doesn't have to be designed for a lot of power or muzzle kinetic energy. This is why gel blasters have a lower ROF but great range and accuracy.Gel blasters are safe due to the gel which will break away after hitting a target. You can wear protective goggles and not worry about damaging your eyes or surrounding objects. Even if there is a malfunction of the bullets, you are protected by the gel.
YESUNE GEL ball BLASTER will continue to be the best gel blaster in 2022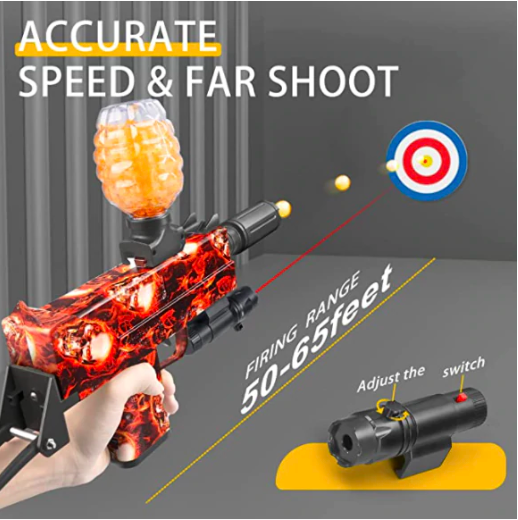 With the latest product, YESUNE GEL ball BLASTER, you can shoot up to 15 balls at a time and shoot over distances of 150 feet!

Choice for Outdoor Games
Water-filled gel ball used in this Splatter Ball Blaster will burst into a pile of small fragments after impact, and will disappear completely after drying. It is not only environmentally friendly but also requires no cleaning. Let you enjoy outdoor fun games Time!Stimulate children's attention and imagination.

It is a great way to open up your options for entertainment, and it's a great way to enjoy the outdoors, stay active and even meet some new friends. Take part in head-to-head matches or team play to develop kids' tactical skills, foster teamwork, and cooperation—and even get some exercise.

Electric Automatic Mode
We have upgraded the gearbox of this Electric Gel Ball Blaster to make it faster and smoother, bringing you a real experience. And we also have a safety switch design and a gift of safety goggles to provide users with adequate protection measures.

Premium quality & safety
Gel ball blaster is a shooting toy for outdoor shooting games. Our gel blaster is made of premium ABS material that are non-toxic, environmentally friendly. The blaster has rapid rate of fire about 200 FPS and long shooting range about 60 ft. It absolutely can bring a excellent shooting experience for you.

Safety Instructions
12 years old and above. You need to soak the hydrogel ball in water for 3-4 hours. When using the splatter ball blaster, you need to be equipped with the safety glasses that come with the package, the range is 65 feet.
An exciting shooting team game will bring you closer to your friends and family! It is the best gift choice for Halloween, birthdays, Easter, Christmas, New Year holidays, group events, etc. Let's have a fierce shooting duel with your relatives and friends!
Comment
Back to YESUN.