THE BEST ROLLED ICE CREAM MAKER FOR 2022
May 07,2022 | YESUN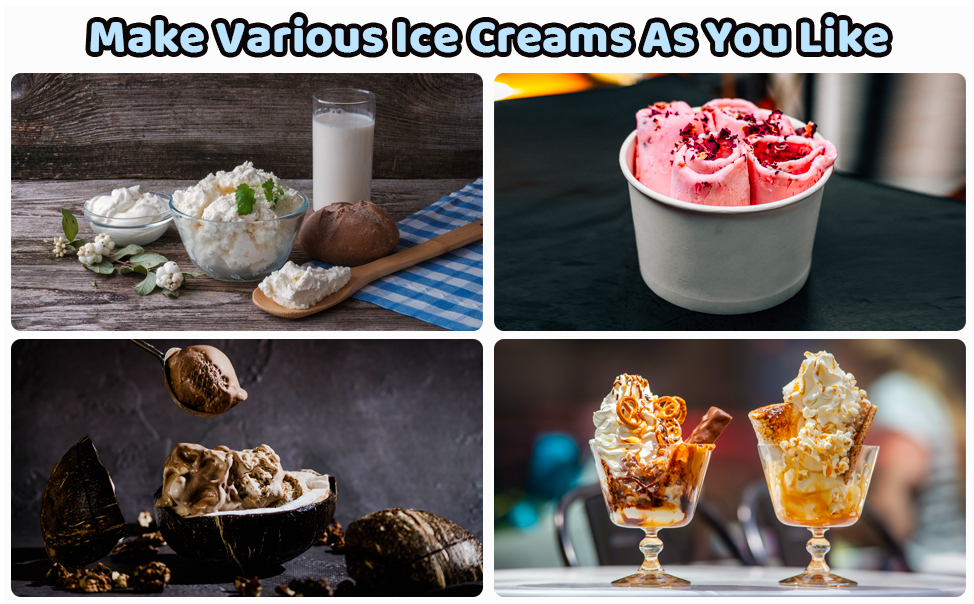 Rolled ice cream is a frozen dessert that originated in Thailand, often referred to as 'Thai rolled ice cream' or 'stir-fried ice cream.' Many will recognize the creamy concoction as the treat that floods their Instagram feed every summer. If you thought you could only buy rolled ice cream from the pros, we have good news: it's easy to make your own version from scratch, and believe it or not, you only need two ingredients—plus the mix-ins of your choosing.
If you don't have space in your freezer to store ice cream, try this hack for creating your own ice cream stand. Purchase Dry Ice Pellets, which are essentially crushed dry ice, available at most grocery stores— just be sure to call ahead. Heat-safe gloves and extreme caution is needed when pouring the dry ice into a baking sheet; place your rolled ice cream tray on top of the sheet. The dry ice will keep the tray cold and making rolling the ice easier. If too much hardens the ice cream, take off tray and try again. It takes practice and rhythm, but once you get the hang of it, you'll be a pro at making rolled ice cream at home.
NOW you can injoy this rolled ice cream at home with YESUNE ROLLED ICE CREAM MAKER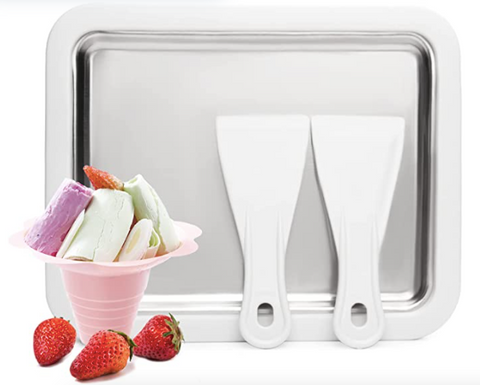 VARIED ICE CREAMS: JoyMech Rolled Ice Cream Maker includes everything needed to make delicious homemade ice cream, frozen yogurt, fruit sorbet, slushy, ice cream rolls and other frozen desserts in minutes. Be creative with your toppings!The home fried ice tray is no need to plug in, kids and adults can use it safely, cultivate children's hands-on ability, and enhance the relationship with their families.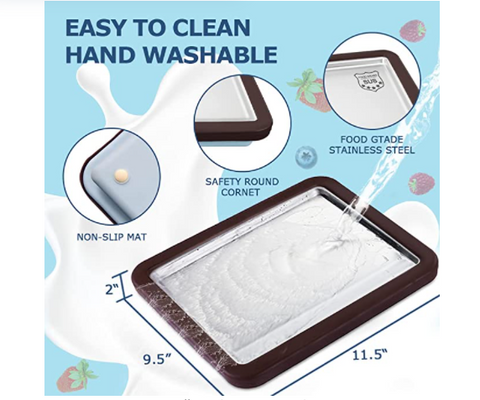 PRE-WORK: Ice Cream Rolls Maker comes with powerful cooling liquid must be completely frozen at 0℉ for more than 12 hours before use.
EASY TO USE: Please put the bottom of the ice tray in the refrigerator -18 degrees to freeze for 12-24 hours, pour in yogurt, fruit and other foods, stir well, wait for 3-5 minutes, DIY your ice cream roller, and enjoy delicious food Yogurt cubes.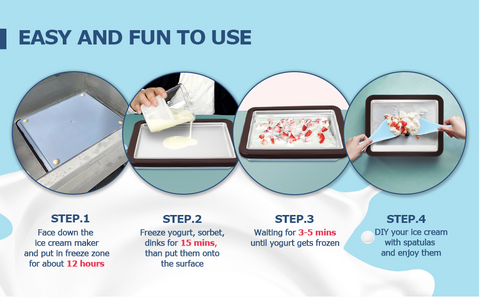 UNLEASH YOUR CREATIVITY: Wtih the instant rolled ice cream maker, you can easily make your favorite mango smoothies, yogurt cubes, ice cream balls, ice cream rolls, cheese ice cream, etc., you can add food according to your needs, create delicious food as you like, and live a colorful life.
Helpful Tips To Guides
Learn about Step 1
A recipe to make a caramel cake
Pour your ice cream base onto a metal sheet pan. Make it no thicker than ¼ in (1/8 is ideal). It should cover the bottom of the pan.
Step 4
If you want to add mix-ins to your ice cream, sprinkle them over the base and use a silicone spatula to distribute them evenly.
How to prepare ingredients for a sheet cake
Step 6
Unwrap the baking sheet from the freezer. Locate where the longest side is touching you. Take out a flat, sharp object, such as a metal spatula, and carefully cut the ice cream into three inch thick strips. Next, with your other hand on top of the object you used, scrape up and then push each strip up at an angle until it becomes a tight tube. Keep doing this until all the strips are finished. Once they all are completed, use tongs to transfer the finished roll to your serving dish (chilled bowls or ramekins work best). Repeat this for any other ice creams left on the pan.
Build the burger of your dreams!
What is Chef's Notes?
Prepare ice cream 1 hour in advance, to help ensure that it will not melt while rolling.
Comment
Back to YESUN.