The best food vacuum sealer of 2022
Apr 12,2022 | YESUN
Freeze-burns are caused by food not properly sealed before it is placed in the freezer. Food vacuum sealers prevent this from happening, prevent freezer burn and make food last longer.
Vacuum sealers make food stay fresh without sacrificing flavor or texture. This is because they remove oxygen that bacteria needs to grow. Handheld vacuum sealers work well, while countertop models are especially good for wet or large items.
We've tested both types of vacuum sealers in the lab, assessing the quality of foods like chicken breast and knowing if they have freezer burn. We also test more delicate items, like berries.
*1 Best Overall Food Vacuum Sealer: YESUNE FOOD SEALER VACUUM SEALER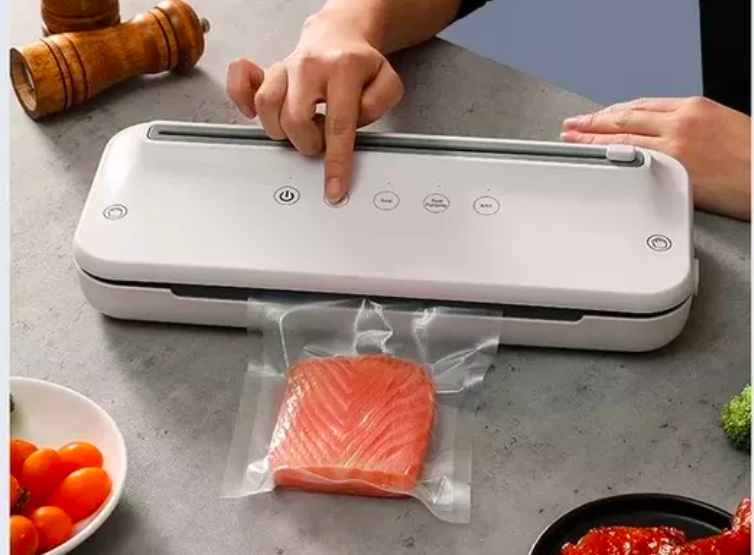 --keeping them 8x fresh longer
--80kpa stronger suction provide the optimal vacuum level and airtight seal, can complete the vacuum and sealing within 10 seconds quickly. Versatile food vacuum sealer is equipped with 4 functions of Vacuum Sealing Plus
--4 Modes for Multi-function
--6 in 1 vacuum sealer with upgraded powerful air sealing system technology. Airtight heat seal to keeps food to stay fresh and flavorful up to 8 times longer
--2 food modes for moist or dry food to help you customize the perfect vacuum seal
*2 Best Value Food Vacuum Sealer:MagicVac Maxima 2 Vacuum Sealer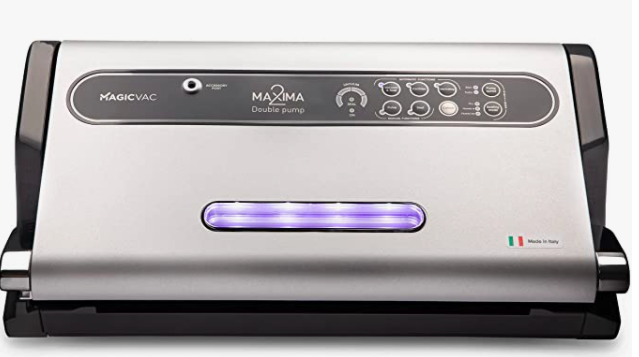 --Unique Italian design and functions
--LOADED WITH TECHNOLOGY
--Fully automatic vacuum and sealing cycles with digital LED indicator to show cycle progress.
--ActiSeal 3D heavy duty seal with innovative temperature control system
*3Most Versatile Food Vacuum Sealer:PrimalTek 12" Commercial Grade Vacuum Sealer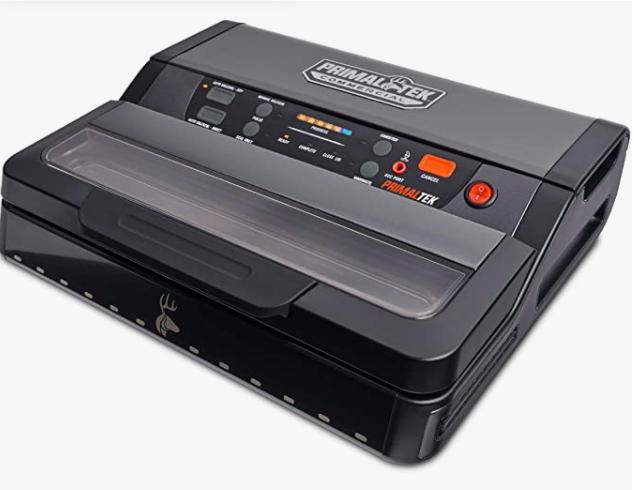 --Make meal prep faster, easier, and more affordable with the PrimalTek 12" Commercial Grade Vacuum Sealer
--This fully automatic electric vacuum sealer is very user-friendly.
--Useful and practical, this innovative vacuum sealing system has built-in bag storage
--The 26" vacuum pressure keeps your food preserved up to 5x longer
*4Best-Selling Food Vacuum Sealer on Amazon:MAGIC SEAL Vacuum Sealer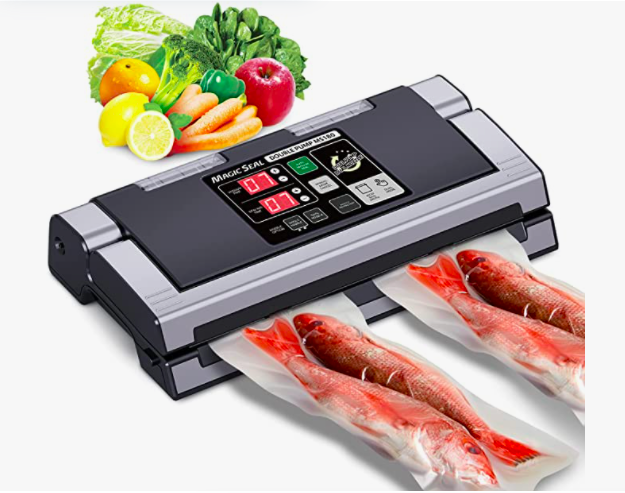 --Power upgraded by double pumps and nozzles
--New designed cooling system ensures long and stable working performance.
--Extra-wide Sealing Line
--Special designed canister to contain liquid from deflation, avoiding common circuit fault in liquid vacuum sealing
*
5Best Food Vacuum Sealer for Hunters:

Avid Armor Vacuum Sealer Machine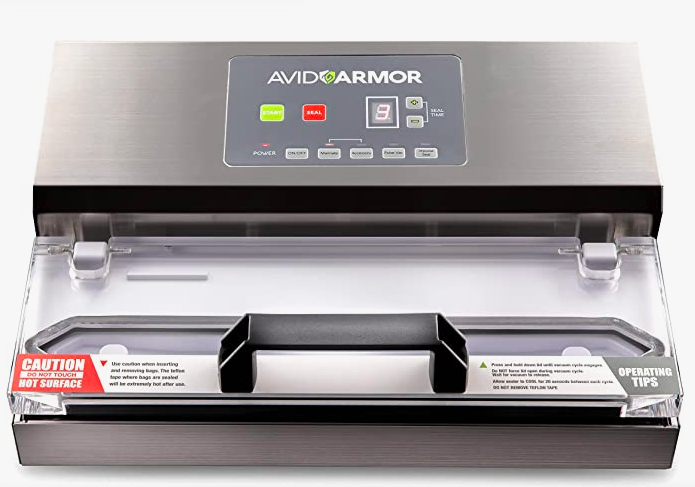 --Avid Armor A100 features stainless steel construction, a 12" wide seal bar and built-in cooling fan
--A100 package includes vacuum accessory hose, 30 pre-cut vacuum seal bag samples
--Package your delicate food like breads, fruits and cheese not requiring a full tight vacuum seal
--Makes a wide 5 mm positive seal preventing leaks and the need to double seal
--KEEPS FOOD FRESH 5X LONGER
What to look out for when buying food vacuum sealers
The best food vacuum sealer of 2022
Look for a vacuum sealer that does more than just one task, like most modern models.
If you lack space or tend to move around a lot, you're likely to be more satisfied with a handheld machine, but if you rely on your vacuuming machine often, there's no comparison between the performance and durability of a countertop model. The difference is as follows:
Ziplock-style bags help keep the air out, but are more suited to small jobs and meal prep.
Countertop sealers allow hands-free sealing of bags and produce longer-lasting results. Countertop sealer models are larger and can often use both pre-cut and cut-to-size bags.
There are many factors to consider when buying a vacuum sealer, as you need something that is designed for your needs. They can be used for freezing meat and leftovers, but also for sous vide. You can use them with meats, dry goods, fruits, vegetables, cheese and pre-cooked meals.
✔️Type of bags: If you need to pack for different purposes, consider buying rolls. They are more versatile than pre-cut bags since you can choose the size that suits your needs. If you plan to sous vide, make sure you get boil-safe bags or rolls. The type of bag should match your machine's specifications; double check it before purchasing.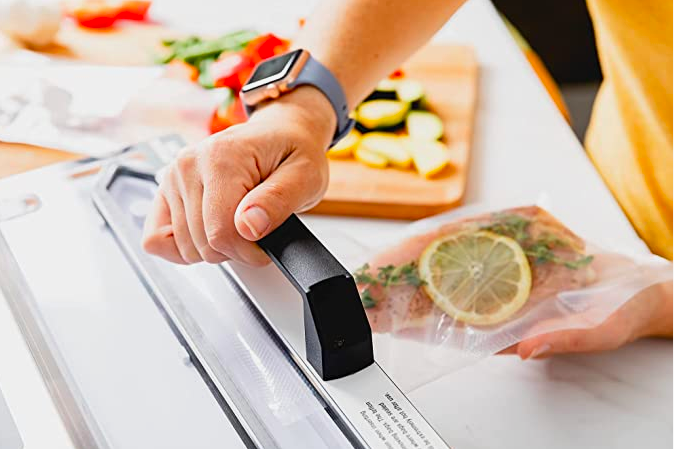 Comment
Back to YESUN.