The best Cervical Pillows for neck pain in 2022
May 08,2022 | YESUN
More and more people are developing a case of Tech Neck, where they constantly look down at their devices. To help this symptom, Dr. Judith Goottman recommends changing your pillow position; instead of placing it straight under your neck, place it around one shoulder to reduce pressure on the neck area.
When choosing a pillow, it is important to ensure that it prevents your neck and spine from being in a negative or stressful position. Sleeping with an uncomfortable or inappropriate pillow can increase tension in the muscles and cause pain, headaches and tingling in the arms or hands.
If you struggle from pain in your neck, it is important to find a pillow that provides cervical spine alignment. We recommends sleeping on your side or back, not stomach. The first choice may be an organic one and the second one may be orthopedically-designed for those with more severe neck pain.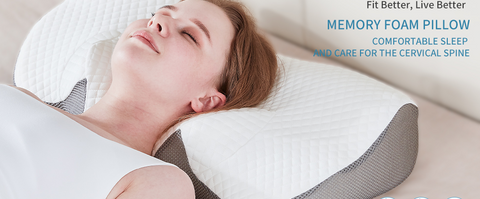 Your pillow is a item you use every night that's easy to forget about until you experience neck pain. To avoid this, choose the right pillow for your needs so you can be sure not to stop sleeping well because of neck pain caused by a bad pillow.
It is a good idea to invest in a high-quality pillow. It can provide the neck with proper neck support you need to avoid pain. Cervical pillows are specifically designed to provide support for your cervical spine and put your head, neck, back into alignment to minimize potential pain.
Not all cervical pillows are made optimally for your neck support, so it is important to know the types of materials in each pillow when buying one.
There are three key factors to consider when purchasing a cervical pillow - (1) which is best for your budget and sleeping style, (2) general health and size requirements, and (3) specific needs.
· First of all. think about your most tvpical sleepina position.The riaht cervical pllow will allow your soine to stav in neutral alianment. f you sleep on vour back. look for a thin
If you prefer to sleep on your side, you'll need a thick, soft pillow to keep your head supported. If you change positions throughout the night, an even better choice is a cervical pillow with rolls and wings for comfort.
Next, you'll need to find a cervical pillow that is a good size for your body. Cervical pillows come in different sizes; make sure to study the sizing information so you choose one that will be the right size for you.
learn the right walking stick type
Memory foam is a popular choice for flling a cervical pillow because it is soft, yet well-supportive.
You might want to get a few pillows with different fillings, so you can adjust based on how you feel.
YESUNE Products offers a variety of cervical pillows that can suit the needs of their customers, from people who sleep on their back to those who like to sleep sitting up. YESUNE dual-position cervical pillow is also a great option with hypoallergenic filling and plenty of support.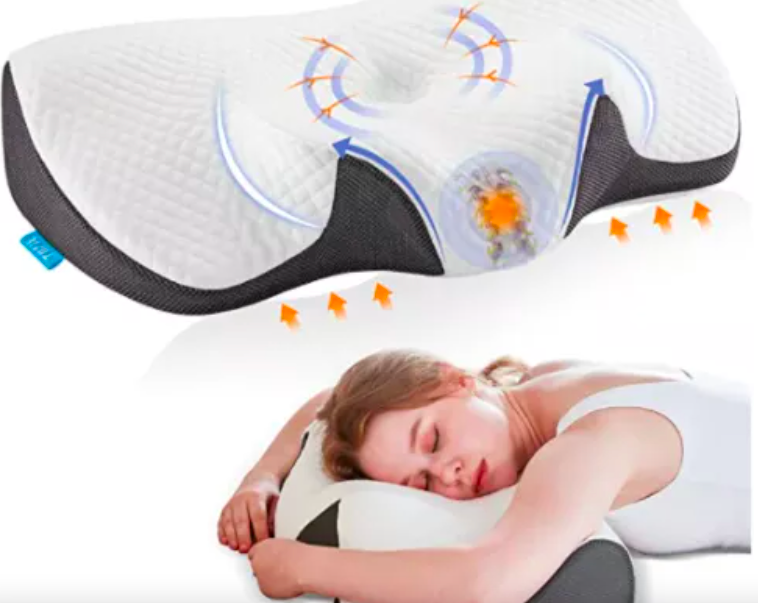 2 in 1 Cervical Neck Pillow: The Cervical Neck Pillow high and low profile on both sides adapts to the natural curvature of the human body. The Ergonomic design will alleviate pressure from stress points and eliminates neck, back, shoulder pain. On top of that, A orthopedic sleeping pillow will uniquely match the shape of your head and neck, making sure you get tailored support that lasts throughout the night and get a good night's sleep.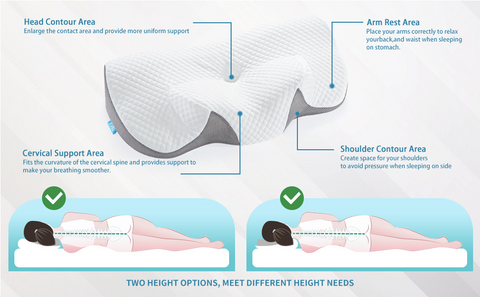 【WORKS WITH MANY SLEEPING STYLES 】 This cervical pillow accommodates all sleeping positions! Hollow design can release the ear pressure for side sleeping and the head pressure for back/stomach sleeping while maintaining the air circulation to reduce snoring. The groove and body curve design ensures proper spinal alignment whether you sleep on the side, back or stomach. Extra armrests design allows the arm to rest naturally. It has 2 different hardness for different demands that will reduce pressure on all the key stress points and ensure proper spinal alignment whether you sleep on the side, back, or stomach, resulting in full relaxed muscles and pain-free sleep.
【ODORLESS PREMIUM MEMORY FOAM】 Safety & all-nature? Our cervical pillows are made of high-quality and odorless memory foam. Premium material will maintain good resilience after long-term use. The memory foam rebounds gently in 3 to 5 seconds and adjusts its firmness smartly by sensing the body temperature. You can get a pillow with the perfect balance between neck support and comfort.
Comment
Back to YESUN.