HOW TO CHOOSE THE BEST LIGHT BULB CAMERA 2022?
May 21,2022 | YESUN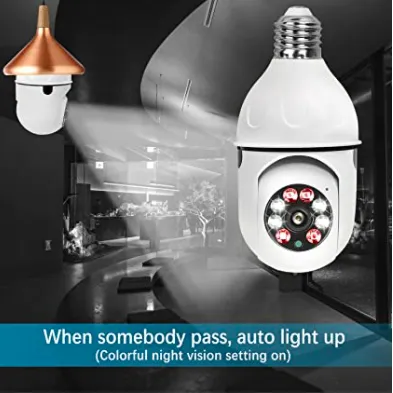 These are smart light bulb cameras that are easy to install, since all you need is a Wi-Fi connection and a smartphone. These are an inconspicuous way to monitor your home and keep your family safe. They can be used in a lot of other ways as well.We have these light bulb cameras for you to review. They are better than other models because they utilize features and characteristics like light bulb camera definition and frames per second which allow them to take the best footage possible. Pay attention to coverage too, as wide coverage can track more ground. Memory card capacity is also a great feature, as it determines how much footage you can store. These light bulb cameras even come with audio recording and speakers which allow you to use the light bulb cameras like an intercom.
We researched various products for hours, which included going through reviews from shoppers just like you. Technology is constantly advancing and there are many cameras and light bulbs on the market. Our table includes all of the information about these appliances, so it is easier to compare them side by side. From there, in-depth reviews will show our readers what each product is like, as well as why they would be helpful. We also discuss how to choose a light bulb camera or lightbulb that best suits your needs.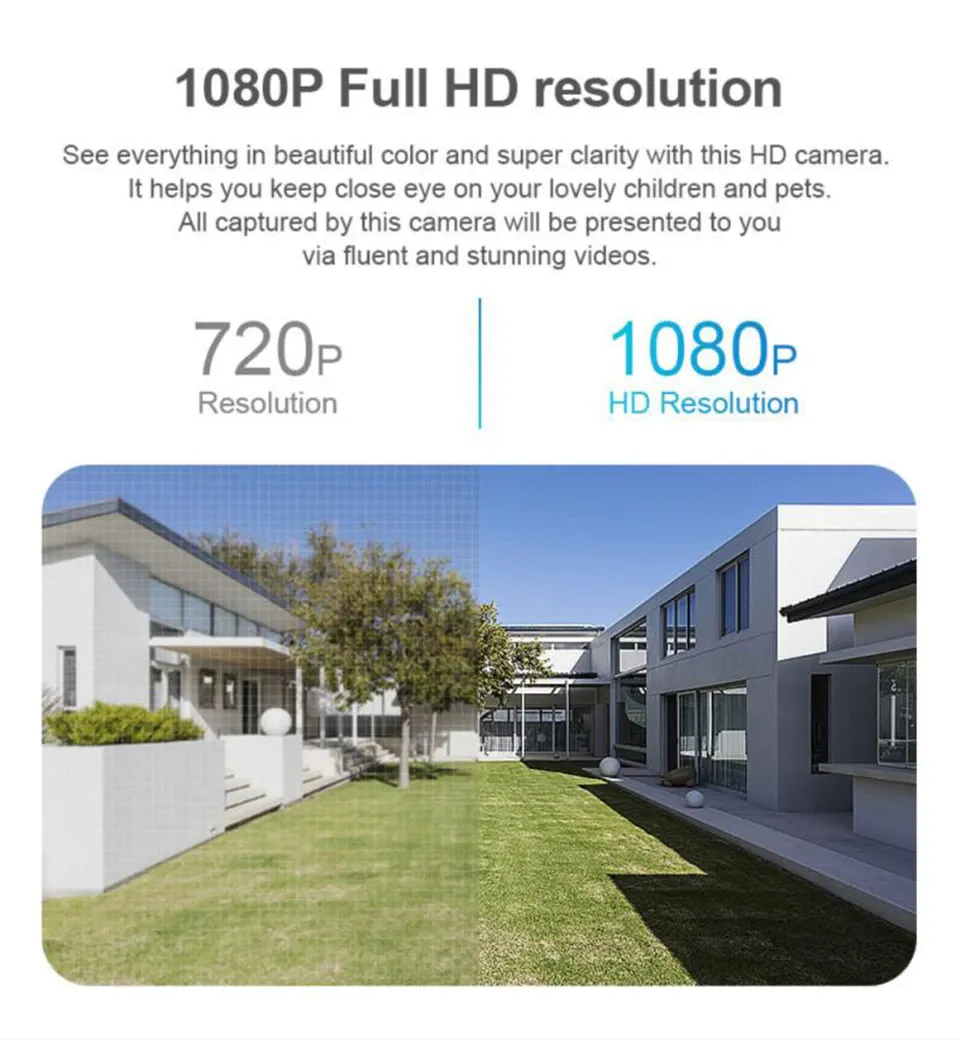 What is Secplicity?
Everyone is now used to high definition images due to the advancement of technology, so standard definition (low quality) pictures will no longer be enough. Images need to be high resolution and clear, so that they are suitable for any purpose.There are three resolutions for light bulb security cameras: 960p, 1080p and SD. For the best possible view, go with a 1080p light bulb camera. It gives you an excellent horizontal perspective, while the 960p light bulb camera's picture is not as good yet still better than if you were using an light bulb SD camera.
Every digital light bulb camera has a limit on the amount of images that can be stored on the memory card.Memory cards are not supplied on light bulb cams, but they all support them. So if you want to use the motion sensor features or record and save files- you will need a memory card. 128GB is the maximum size of most light bulb cameras and that's an enormous amount of space as well so you can record up to a month's worth of footage on most light bulb cameras if your activate the motion feature.You can store the footages on a microSD card, which will come (usually) with most models. However, you may want to invest in cloud-based storage if you want to store more than 24 hours of footage at one go.
A review of coverage
If you want to use your light bulb camera inside, you only need enough coverage for the room. If you want to monitor the basement for flooding or the garage for your car or tools, more coverage doesn't hurt.The best outdoor light bulb camera to purchase is one that provides good night vision so you can monitor your property into the evenings and protect it during the evening and nighttime hours. You also want a light bulb camera that provides full coverage of your front or backyard so you can see everything that is happening on your property.When exploring a building, trip destination, or any other intriguing location, make sure to take a full 360-degree view. Don't worry about panning your light bulb camera from one direction to the other, because all of these products can capture it in its entirety.
How light bulb camera Night Vision Eye Drops work?
Night vision is essential for outdoor light bulb cameras. For instance, the YESUNE Light Bulb Camera has a great motion sensor feature - but what good does that do you if you can't see anything at night? Consider choosing a light bulb camera that produces clear images outside at night if you want the best coverage.Night vision is a useful function in cases, such as baby monitoring. The YESUNE Light Bulb Camera has night vision, which allows you to monitor the baby as he or she sleeps.Night vision is a useful feature to look for in your best security possibilities.
*Light Bulb Camera Outdoor Wifi 1080P HD light bulb security camera Can provide a clear picture even at night,Intelligent Night Vision provides ordinary night vision and color night vision, you can easily choose according to your own needs.
*mobile phone to download the APP, and use the APP to help the light bulb camera connect to the WIFI. Waterproof & Dustproof,The shell is made of high-grade plastic , which is waterproof, sun-proof and dust-proof. Light bulb camera is suitable for any environment.
*YESUNE light bulb camera can control the viewing angle through APP, you can remotely view it anytime and anywhere through for iPhone/for Android for phone/for Ipad.This light bulb camera can be accessed remotely via apply to iPhone/Android phone. The light bulb camera can provide you with a clear view at any time. You can control the camera's viewing angle through the APP to achieve 360-degree viewing without blind spots.
*Two-Way Audio light bulb Security Camera System, Even on the other side of the globe, you can also hear and talk to people in front of the light bulb camera through the "Tuya" App.Light bulb Camera is built with microphone and speaker. So you can talk to your kids via your Smartphone remotely whenever you want.Support E27 bulb base.Just insert and screw it into the light socket, and set up via QR code within 1 minute.voltage: 110V-240V.Smart Dual Light Source Built-in 4Pcs White LED and 4Pcs IR LED, Monitor moving objects, automatically illuminate. This is an impressive little weapon against crime.Auto Tracking,when somebody move,the light bulb security camera will be trak automaticallu follow moving objects and record video,meantime Notification push to you smart cellphone.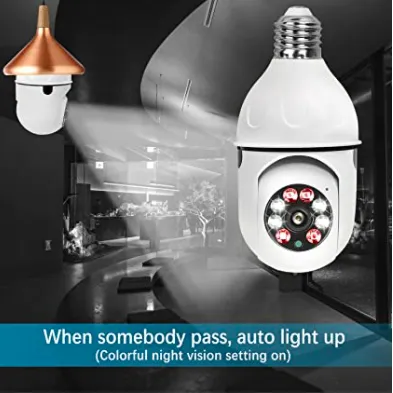 What is Two Way Talk?
This is a niche use-case, but installing a light bulb camera is a great way to have a real-time video communication system and get announcements from your doorbell at the push of a button.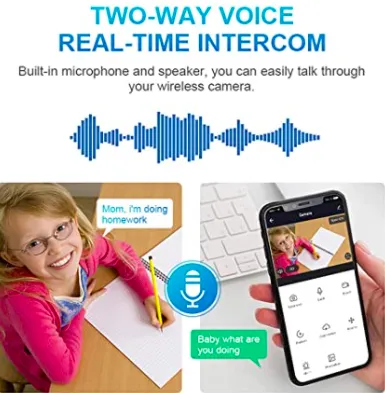 Comment
Back to YESUN.